Look, Listen, Talk! – Alcohol in the Workplace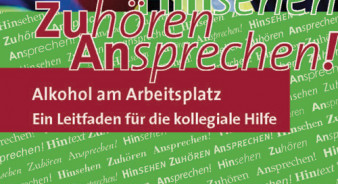 Hinsehen, Zuhören, Ansprechen! – Alkohol am Arbeitsplatz
Working Group on Alcohol and Responsibility / Bundesverband der Deutschen Spirituosen-Industrie und -Importeure e.V.
Germany
2006 > Ongoing
#AwarenessRaising #StaffTraining
Objective
To provide help and guidance on addressing the subject of and taking responsibility regarding alcohol in the workplace.
Description
The second edition of the brochure "Hinsehen, Zuhören, Ansprechen! - Alkohol am Arbeitsplatz - Ein Leitfaden für die kollegiale Hilfe" ("Look, Listen, Talk! - Alcohol in the Workplace - Guidance for helping co-workers") was printed in February 2009. It contains guidance on helping colleagues with alcohol-related problems, support and tips on how to deal with the subject of alcohol and how to spot problems.
It can be ordered by BSI member companies as well as other interested companies. It is also available for download on www.massvoll-geniessen.de.
Partners
Cooperation with Berufsgenossenschaft Nahrungsmittel und Gastgewerbe (BGN), the German Social Accident Insurance Institution for the foodstuffs and catering industry
Results
10,000 brochures were produced in February 2009.
Downloads
Photo gallery
Documents