European Night Without Accident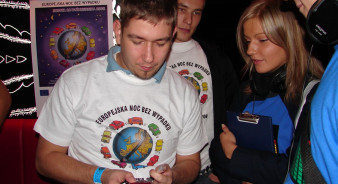 Europejska Noc bez Wypadku
Polski Przemysł Spirytusowy
Poland
2006 > Ongoing
#AwarenessRaising #OnTrade #DesignatedDrivers #RoadChecks
Objective
To reduce the number of alcohol-related road accidents involving young drivers.
Description
The Polish Spirits Industry supports the pan-European campaign which promotes the designated driver concept. The campaign revolves around:
Young volunteers visiting nightclubs across the country on the third Saturday of October.
Distribution of bracelets to registered designated drivers to prove their commitment to undergo a breathalyser test before leaving.
If the test is negative, they are rewarded with gifts. If positive, volunteers encourage them not to drive or to entrust a sober friend to drive.
In 2010, 2011 and the campaign was held in conjunction with Don't Drink and Drive.
Partners
Foundation Krzys (Safe Driver Foundation)
Responsible Young Drivers
National Road Safety Council
National Police Headquarters
The European Commission
Results
In 2012 it took place on 20 October in 40 clubs in 35 cities with more than 130 volunteers.
In 2014 it took place on 18 October in 42 clubs in 36 cities with more than 150 volunteers.
In 2015 it took place on 17 October in 42 clubs in 39 cites with over 150 volunteers.
In 2016 it took place on 15 October in 37 clubs in 27 cities with over 150 volunteers.
In 2017 it took place on 21 October in 30 clubs in 23 cities with over 150 volunteers.
Downloads
Photo gallery
Documents