Responsible sale and delivery of alcoholic beverages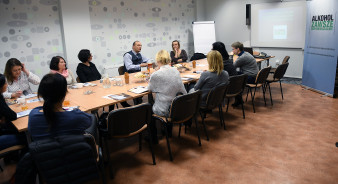 Odpo­wie­dzialna sprzedaż i poda­wanie napojów alko­ho­lo­wych
Polski Przemysł Spirytusowy
Poland
2016 > Ongoing
#AwarenessRaising #OnTrade #OffTrade #StaffTraining
Objective
To improve the knowledge of alcohol as both a specific commercial product and a substance with a specific effect on the human body.
Description
The training in is part of the nationwide "Alcohol. Always responsibly" campaign.
The interactive workshop covers issues such as compliance with the law, the responsibility of sales staff and responsible consumption. Participants are able to check their current knowledge against the workshop subjects and to get answers to questions about their daily work.
All participants receive a manual "Responsible sale and serving of alcohol beverages and a certificate of participation at the end of the workshop.
The workshops are led by Robert Lemański, a qualified preventive specialist, a socially responsible business specialist and a trainer for business control bodies authorised to sell alcoholic beverages.
Partners
local goverments
local police departments
retail/franchise chains
Results
2019:
workshops in 41 towns and cities
trained nearly 1 000 sellers and servers of alcoholic beverages
started cooperation with reatil chains - MAKRO Cash and Carry
98 % of participants graded workshops as useful and helpful in their daily job.
2018:
worshops in eight cities
traind 314 sellers and servers of alcoholic beverages
2017:
Sopot (February): More than 40 employees of shops and restaurants attended. The training was divided into two rounds: one addressed to sales staff, employees and shop owners, the other to bartenders, waiters, restaurant managers and clubs. Workshops were also attended by officers of the Municipal Police Headquarters (including two district offices), city guard officers (along with Commander Tomasz Duda) and employees of the City Council. The topic of alcohol education met with great media interest: Reporters of Radio Gdansk and Radio ESKA and "cameras" by TVN24 and Polsat News attended the workshops.
Katowice (May): 20 employees of shops, bars and restaurants and 2 officials from city council participated in training.
Sopot (May): In the second round of workshop in Sopot more than 50 people participated, including representatives of restaurants, shops selling alcoholic beverages, police and employees of the City Hall.
Rzeszow (June): Nearly 60 people took part in the workshops.
Wladyslawowo (August): In training in this holiday seaside destination 55 sellerers and servers of alcoholic bevereges participated.
Słupsk (December): 45 people took part in this workshop on responsible sale of alcohol. Except of employees of shops and restaurant in training participated also representatives of local police.
Krynica-Zdrój (December): Over 40 sellers and servers of alcoholic beverages participated in training in Polish favorite winter holidays destination.
December 2016 in Gdynia: Four sessions were held for food service workers and shops operating in the areas covered by the Gdynia revitalisation program.
Measurement & evaluation
Participants rate workshops as very useful. They all declare to put training certificates in visible place in their work place.
98 % of participants graded workshops as useful and helpful in their daily job.
Downloads
Photo gallery