Responsible Drinking website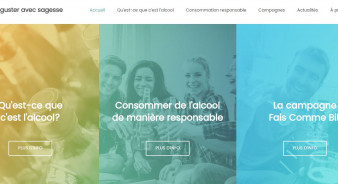 Deguster avec sagesse / Drinken met verstand
Vinum & Spiritus
Belgium
2010 > Ongoing
#AwarenessRaising
Objective
To raise awareness of responsible alcohol consumption.
To inform consumers about low risk levels of consumption.
Description
A new site was also developed in 2016 (degusteravecsagesse.be/drinkenmetverstand.be/). Sections are:
What is alcohol?: Which contains general information about alcohol such as what it is and what a unit of alcohol is.
Responsible consumption: Which contains information on how to drink responsibly such as what the guidelines are and tips.
Campaigns: Which contains information on the responsible drinking campaigns run by the association.
A news section which contains the latest news.
Results
Since the new website was launched in August 2016, data is only available from 27 August. The Dutch part of the website had 1,600 sessions, 1,220 users and an average of 2.06 page views per session from 27 August to 21 December 2016. From July 2017 to February 2018, the Dutch section of the website had 350 unique hits and the French section has 271 unique hits.
Website
https://degusteravecsagesse.be/
Downloads
Photo gallery