Initiative on training in the protection of minors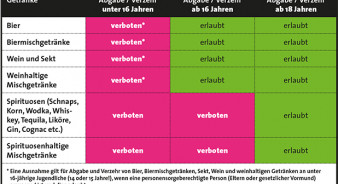 Schulungsinitiative Jugendschutz - SchuJu
Working Group on Alcohol and Responsibility / Bundesverband der Deutschen Spirituosen-Industrie und -Importeure e.V.
Germany
2007 > Ongoing
#AwarenessRaising #OnTrade #OffTrade #StaffTraining
Objective
To train staff and cashiers to serve and sell alcohol responsibly.
To disseminate practical advice on how to enforce legal purchasing age limits in the on- and off-trade.
To protect underage people from early and harmful alcohol consumption.
Description
The online training programme (WBT I) for trainees and workers in the on- and off-trade (retailers, caterers, hotels and filling stations) covers information on the law (e.g. legal age limits for serving and selling of alcoholic beverages, and the consequences of violating it), offers tips for checking a customers age and advice in dealing with drunken behaviour. At the end of the 10-15 minute training a 15 question online test can be performed. If the test is completed successfully a pdf file, which includes a personalised certificate, is automatically mailed to the participant.
For those who wish, an advanced training (WBT II) is available since 2012. It repeats and deepens the contents of the initial training and simultaneously conveys profound practical examples.
The online training programme and also the advanced training additionally offer an optional audio support (since 2015).
Support materials for trainees and employees in retail, catering establishments and filling stations and also for teachers in vocational schools and other occupational training institutions are available for download/ordering on the dedicated website.
The Initiative is supported by: leaflets containing practical guidance and tailored advice; information cards for the bar area which provide an overview of the Protection of Young Persons Act in relation to the sale of alcoholic beverages; a badge and an age control disc to help staff quickly calculate a customer's age (minimum 16 for beer, wine and sparkling wine and minimum 18 for spirits). The disc displays the minimum date that should be on the national identity card for the customer to be either 16 or 18. The employee sets the disc once a day to be kept up-to-date.
In September 2013 three videos were created. They show realistic everyday situations using amateur actors from the different professions to provide practical suggestions and tips to prevent the sale of alcoholic beverages to pupils. The filling station video shows how an impatient customer offering to buy the alcoholic beverages for pupils just refused by the cashier, the bar video shows an older teenager trying to order alcoholic beverages for his underage friends and the retail outlet video shows how to calmly answer when teenagers are trying to buy alcoholic beverages.
In December 2014 the website was re-designed. The site structure was changed so that staffs of each industry can quickly find relevant tips and implementation examples. It provides a central news section and a download section where the training and information materials can either be ordered or downloaded.
Since 2013 the off-trade brochure is added to the Grips & Co Brand Training Box (compendium about goods in 33 categories).
Partners
Cooperation with
Federal Association of Vocational School Teachers in Germany (BLBS)
German Hotels and Restaurants Association (DEHOGA Bundesverband)
German Retail Federation (HDE)
Federal Association of the German Retail Grocery Trade (BVLH)
German Bartenders Association (DBU)
Association of German Chambers of Commerce and Industry (DIHK)
Association of Independent Petrol Stations (bft)
Federal Association of Petrol Stations and Commercial Car Wash (BTG – Minden)
Central Association of Petrol Stations (ZTG)
Association of the German Petroleum Industry (MWV)
Federal Association of Medium-Sized Oil Companies (UNITI
Trade Union of Food, Beverages, Tobacco, Hotel, Catering and associated workers (NGG)
Service Stations Association (tiv - Tankstellen-Interessenverband e. V.)
Federal Association of German Beverage Wholesale (BV GFGH)
Bavarian Association of Gas Stations
Munich Bartending School (Barschpe München)
Rostock Bartending School (Barschpe Rostock) – American Cocktail College
Saxony Bar Academy (bar academy sachsen)
German Bartender School
Federal Association of System Catering (BdS)
Results
Since 2007, about 166,000 employees have passed the basic course and about 6,200 the advanced course (until November 2017).
Since 2013, 10,000 retail trainees have received the Grips & Co Brand Training Box each year.
The filling station video was viewed about 33,700 times, the bar video about 28,500 times and the retail outlet about 30,000 times (until November 2017).
285,500 leaflets for retailers, catering establishments and filling stations, 50,000 bar cards and 35,200 age control discs for cahiers have been distributed (until November 2017).
The website has had about a milllion users with about 8.9 million page views since launch (until November 2017).
Measurement & evaluation
An online evaluation took place in November 2013 (590 persons who had successfully completed the training during the previous two years: control group 160 persons):
Part 1, impact of the training:
Age verification was requested around 5.4 times per week (trained) compared to 2.1 times per week (control group).
Staff were able to recognise legal purchase age 7.7 times per week (trained) compared to 3.4 times per week (control group) (margin of error: less than 5%).
Employees in the retail, catering and filling stations are significantly more motivated after participating in the online training.
Part 2, trainee opinion of the training:
98% of the trainees stated that they paid great importance to the observance of the Protection of Young Persons Act after training and
59% stated that they ask for proof of age more frequently than before training.
The quality of the training was rated at 1.86 (1 the highest), of which 89% gave a "1" and 26% a "2".
84% would recommend the training to colleagues.
61% had gained new knowledge.
57% thought their behaviour in delivering alcoholic beverages had changed.
81% agreed that the topics dealt with during the training were relevant for their day to day work.
90% appreciated the certificate.
Website
https://www.schuju-training.de/
Downloads
Photo gallery