I serve responsibly!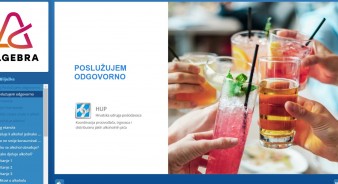 Polusžujem odgovorno!
Coordination of producers, importers and distributors of spirits
Croatia
2020 > Ongoing
Objective
To educate and raise awareness of the HoReCa sector that it is forbidden to sell and serve alcohol to underage people (under 18's)
To raise the on-trade sector's knowledge and awareness of the risks related to underage alcohol consumption
To ensure compliance with the legal requirements regarding the sale of alcoholic beverages
To reduce alcohol-related harm at national level while focusing on activities that will help to eliminate underage alcohol consumption
Description
Research shows that Croatia still has a problem with underage drinking, life-time use is significantly higher than the average across Europe and the percentage of those who have drunk to excess in the last 30 days is also higher than the European average. Croatians try their first drink very young; 40% had tried their first alcoholic beverage by 13 or younger and that every third teenager (15 years old) drinks alcohol once a week. Such prevalence of underage consumption makes a strong case for the programme, which will address this problem by educating on-trade personnel about responsible serving.
The programme is designed as a long-term initiative, which will provide practical assistance to on-trade (and later off-trade) personnel and help them achieve a more responsible approach in respect of the legal purchase age. Each year, the aim is to include more partners and reach out to more companies and personnel in the on-trade and off-trade sectors.
The responsible serving programme includes the following elements:
Workshops: Training for professional bartenders and waiters about responsible selling and serving of alcohol with a focus on under-age drinking. The interactive workshops cover issues such as compliance with the law (e.g. legal age limits for serving and selling of alcoholic beverages, and the consequences of violating it), the responsibility of sales staff and responsible consumption (offers tips for checking customers age and advice in dealing with difficult situations). At the end of the workshop, the participants get a certificate, which they are encouraged to display at their workplace. The workshops are held in key cities in Croatia, such as Zagreb, Rijeka, Dubrovnik, Split.
Trade visits: After first stage of the campaign, Spirits Coordination will implement key messages on responsible serving for all trade visits of their sales representatives. The sales representatives will be trained to communicate key messages for on-trade owners and bartenders during their visits in order to increase the future outreach and impact of the campaign.
Support materials: Supporting materials for personnel in on-trade establishments includes leaflets containing practical guidance and tailored advice, and a badge with the campaign slogan "I serve responsibly!", which every employee will be encouraged to wear to demonstrate their pledge. The leaflets and badges are given at the workshops but will also be distributed to all on-trade companies that participate in the programme.
The roll-out of the programme has been severely impacted by the COVID-19 crisis and it has been put on hold until the situation allows.
Partners
Croatian Employers Association (HUP)
Croatian Chamber of Crafts and Trades (HOK)
Association of Hospitality and Tourism (UUT) at HUP
Association of Hotel Employers in Croatia (UPPUH)
Results
The roll-out of the programme has been severely impacted by the COVID-19 crisis. The first two workshops, due to take place on 19 and 31 March 2020 had to be cancelled. Roll-out has been put on hold until the situation allows.
Measurement & evaluation
A pilot survey was carried out among HoReCa (Hotel, Restaurant, Café) professionals at the annual congress organised by HOK in November 2019. It was designed to find out the level of knowledge of the legal obligations of the personnel when it comes to serving alcohol to minors and current practice. The survey results will be used as a benchmark against which the success of the programme will be evaluated. From 100 valid responses, the survey found that:
Almost 50% believed that beer and wine are less harmful than spirits.
78% felt properly informed about the provisions of the Hospitality Service Act defining serving alcohol to minors and that they follow all of the provisions of the law.
The hospitality sector strongly believed (83%) that joint effort from policy-makers, businesses and other stakeholders is needed in order to reduce the underage alcohol consumption and alcohol access to minors.
81% supported awareness and prevention campaigns by the alcohol industry, hospitality and tourism sector, which signals their readiness for future cooperation.
Almost 90% said that signs about the prohibition of serving alcohol to minors are prominently displayed in their premises. Almost 50% said that they display taxi numbers and public transportation schedules. However, only 40% engaged in regular staff training in responsible serving.
51% were confident that their staff could identify drunk people and minors, and 67% strongly believed that they didn't serve alcohol to minors.
Initial feedback from political stakeholders such as with officials from Ministry of agriculture and Ministry of finance has been positive.
A further survey was foreseen in November 2020 but was delayed due to the impact of the COVID-19 pandemic.
Website
https://elearning.algebra.hr/login/signup.php
Downloads
Photo gallery