Enjoy Responsibly website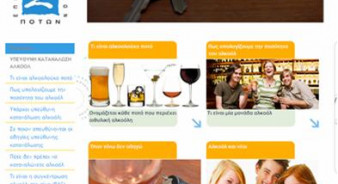 Απολαύστε Υπεύθυνα
Hellenic Association of Drinks Distributors / Greek Federation of Spirits Producers
Greece
2009 > Ongoing
#AwarenessRaising
Objective
To raise consumer knowledge and awareness of the responsible consumption of alcoholic beverages.
Description
The consumer information website contains information on subjects such as:
Effects answers questions such as: "what happens to alcohol in your body?", "what is it that makes you feel drunk?", "What is a hangover?", "What is "binge drinking"?", and provides general advice on how alcohol affects the body and the dangers of uncontrolled drinking and drunkenness.
Every stage of life contains advice specific to different times of life such as for the under 18's, 18-30 and over 60 age groups, for pregnant and breastfeed mothers, for parents and when at work.
Alcohol and Young People contains advice for young people on subjects such as "is excessive alcohol consumption worth it?", "How to resist pressure from friends encouraging another drink" and "What to do if things go wrong".
Alcohol and Parents contains sections for parents such as: "you, your child and alcohol", "why shopd I talk to my children about alcohol", "at what age shopd allow my child to drink?", "tips for talking" and "practical ways to delay alcohol consumption by adolescents".
Alcohol and Driving contains information such as: what the BAC limits are, how a driver's reaction time changes after having a drink, the guide gang (designated driver) and how to get home safely after a night out.
Tips section offers tips on topics such as "how to enjoy a safe night out", "how to be a perfect host", "safe drinking during the summer holidays" and "tips for the morning after a night out".
The website also contains advice on how to avoid counterfeit drinks (or "bombs") and has summaries of previous campaigns.
The website address appears next to the "Enjoy responsibly" message on every printed and electronic advertisement of the member-companies' products.
Results
In 2014, the website had 17,800 unique visitors.
Website
http://www.apolafste.ypefthina.gr/
Downloads
Photo gallery