Enjoy Responsibly website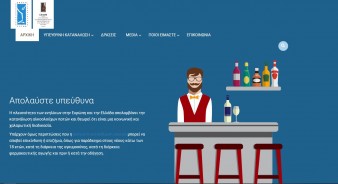 Απολαύστε Υπεύθυνα
Hellenic Association of Drinks Distributors / Greek Federation of Spirits Producers
Greece
2009 > Ongoing
Objective
To raise consumer knowledge and awareness of the responsible consumption of alcoholic beverages.
Description
Launched in 2009 and updated in 2020, the consumer information website contains information on subjects such as:
ALCOHOL IS ALCOHOL: Contains general information about alcohol such as what a unit is, how much is "too much", the effects of excessive consumption and calories in a drink
ALCOHOL & FERTILITY: Contains information related to pregnant or breastfeeding women
ALCOHOL AND PARENTS: Contains information for parents such as how to talk to their children about alcohol, why teens drink and whether they should allow their child to drink
ALCOHOL AND YOUNG PEOPLE: Contains advice for young people such as how to resist peer pressure and what to do if a friend gets drunk
ALCOHOL AND DRIVING: Contains information such as what the BAC and what the BAC limits for driving is, and about the designated driver concept
EFFECTS: Contains information such how alcohol affects different people, what binge drinking is and debunks myths about alcohol
ILLEGAL ALCOHOL: What non-commercial alcohol is and how to recognise it
TIPS: contains tips such as planning a safe return from a night out and how to have fun without drinking alcohol
The website also has a summary of previous campaigns and press releases.
The website address appears next to the "Enjoy responsibly" message on every printed and electronic advertisement of the member-companies' products.
Results
In 2014, the website had 17,800 unique visitors.
Website
http://www.apolafste.ypefthina.gr/
Downloads
Photo gallery