Alcohol is Responsibility. Drink responsibly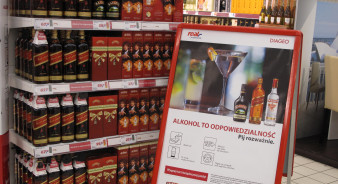 Alkohol to Odpowiedzialnosc Pij Rozwaznie
Diageo
Poland
2010 > Ongoing
#AwarenessRaising #OnTrade #DesignatedDrivers
Objective
To promote responsible drinking.
To increase consumer knowledge concerning the alcohol content of alcoholic beverages.
To raise awareness of the risks associated with drink driving.
Description
The campaign can be summarized as follows:
Education on the influence of alcohol on the body and the rules of its responsible consumption, which includes the campaign website, Facebook page and meetings with students.
Promotion of responsible drinking at the POS: e.g. information campaign in all Real stores all over the country.
Promotion of road safety: collecting signatures under the declaration "I drive. I don't drink" in the Real retail network and on the campaign website, the educational game on Facebook "Doublegas driving", on-line trainings in assertiveness towards intoxicated drivers, the action to promote responsible road behaviour in partnership with Warsaw Municipal Police HQ.
Educational actions targeted at young adults (LPA), including DrinkIQ trainings for students, the "Drink responsibly. Master Class" competition.

Elements of the campaign include:
Customers: Point of sale "4 good party rules" responsible drinking hints & tips (leaflets, posters, displays, shelf liners, cashiers' badges and neck hangers). The rules are: have a glass of water; eat when you drink; don't drink under 18 and don't drink and drive. Customers are asked to sign the "I don't drink and drive pledge". Those who sign receive a sticker declaring that they signed. Hostesses disseminate the responsible drinking messages to customers, hand out free water bottles to customers buying a Diageo product and ask them about their response to the campaign.
Employees: are given Drink IQ training in order to advise consumers on responsible drinking messages. Training involves information on the effects of alcohol, the alcohol content in different alcoholic beverages, implementing legislation for the legal purchasing age regarding the sale of alcohol products.
Social media promotion: on Facebook and a dedicated website. The website was updated in 2013 and contains campaign information, possibility to sign the pledge, news, a summary of the "Master Class" competition and useful links. Facebook profile is updated on a constant basis with useful information to keep educating consumers about Responsible Drinking.
Communications and media exposure: communication campaign targeting media outlets such as online and print media, television and radio stations.
DRINKiQ workshops for journalists joined by campaign experts to inform journalists of the key issues surrounding responsible drinking in Poland.
DRINKiQ classes for students: students learn about the key issues such as what effect alcohol has on the body and how to drink responsibly.
Consumer competitions.
Partners
Real Hypermarkets (part of Metro Group)
Nałęczowianka (mineral water)
The Institute of Vehicle Transport
Medical University of Warsaw
Warsaw Police
Polish Students Association
Institute for Motor Transport Research –Samar
Foundation Krzys (Safe Driver Foundation)
Metropolitan Regional Group of the International Police Association (IPA) from April 2014
National Police from 2015
Results
2016: Diageo Poland was awarded with the title of Best Ethical Companies. The award was given accordance with the highest ethical standards in Poland and Diageo was the only company in the spirits awarded in this contest. The aim of the competition was to promote and strengthen the principles of business ethics among Polish businesses.
December 2016: The total number of pledges stands at 76,515. The Facebook page has been "liked" over 8,000 times.
The campaign has been recognized:
Award of the Employers of Poland Association – Corporate Responsibility Leader 2012.
It was numbered among the Best Practices of the Corporate Responsibility Forum in 2013 and 2014.
Stevie Awards in 2014 – in categories Communication or PR Campaign in Social Media.
United Nations Global Compact Yearbook for 2014 & for 2015 – Diageo was the only alcohol producer in Poland to be included in this prestigious publication.
2013/2014 "Master Class" activation: 15 students attended the workshop and 10 winners received t-shirts and 3 Kindle readers. More than 668,000 students in Poland were reached through the Master Class (40% of all students). Around 7 million poles were reached through all communication channels. There were 2 million ad impressions and 27,900 clicks into ads on Facebook. The Facebook fan page had 5,400 fans after 4 weeks of campaign. 18,515 users clicked on posts and there were 182,877 views of the entries. 4,517 Facebook users installed the contest application. There were 55,664 views of application pages and users spent an average of 1.5 minutes using the app. There were 537 competition entries and 9,248 votes cast in the gallery.
2012: 10,000 drivers received leaflets form Warsaw Police. 1,000 t-shirts were given to volunteers in European Night without Accident. 174 media publications were seen over 5,381,801 million times. 31,706 people signed the pledge.
2011: 36,127 people signed the pledge. 60 competition participants won a taxi voucher worth PLN 50 each after testing their knowledge of the "4 good party rules".
2010: Around 500,000 customers saw the materials. The online competition to answer "What does responsible drinking mean for you?" had over 17,000 unique visitors. Winners received safe driving lessons. Over 6,000 signed the "I don't drink and drive" pledge.
Measurement & evaluation
2011: The campaign received a very positive response. Consumers presented only with the campaign message, without exposure to the full programme, understood that it was warning against drinking and driving (43%). After seeing the campaign material, they also understood the more subtle messages of responsible drinking (27%) and the rules of having good fun with alcohol (21%). Consumers evaluated the message as believable, informative and useful.
2010: Over 80% of shoppers evaluated the campaign positively (describing it as necessary, reliable and having an important message). The most noticed slogan and the one evaluated to be the most important was "Never drink and drive".
Downloads
Photo gallery
Documents