Alcohol. Always responsibly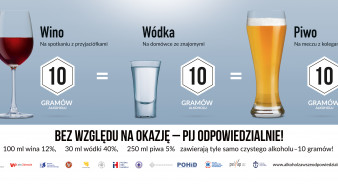 Alkohol. Zawsze odpowiedzialnie
Polski Przemysł Spirytusowy
Poland
2016 > Ongoing
#AwarenessRaising #Study&Survey
Objective
To boost responsible drinking culture.
To build awareness of the equivalence of all alcoholic beverages.
To increase public awareness of the impact of beverages containing alcohol have on the body.
To increase public awareness of responsible consumption.
Description
Pre-campaign study: Research was carried out to test the Polish approach to alcohol consumption in May 2016. The aim was to examine:
Opinions and knowledge about alcohol and consumption habits (frequency, consumed drinks, occasions).
Awareness of and willingness to follow the principles of responsible consumption.
Treatment and perception of different alcoholic beverages.
Knowledge of the actual content of pure alcohol in beverages.
The study also measured the attitudes and motivations associated with the consumption of different alcoholic beverages.
The research was published in the "What do Poles know about alcohol?" study. Amongst others, the study reveals that Poles do not always know how much pure alcohol they drink and that the idea that alcoholic beverages can be more/less healthy and dangerous/harmless is a common misperception.
Campaign: The research findings prompted the "Alcohol. Always Responsibility" campaign. It aims to inform consumers that different types of alcoholic beverages contain the same amount of pure alcohol depending on their alcohol by volume (ABV) and the quantity being served. It also emphasises that ethyl alcohol, regardless of what the drink is, always acts on the body in the same way. Therefore, every drink containing alcohol shopd be treated responsibly.
Actions: The communication campaign started in June 2016. In 2016 key messages were distributed through:
PR activities: It was communicated at 22 June 2016 Spirits Industry Congress in Warsaw.
Outdoor: Billboards with the key message "No matter the occasion – drink responsibly" were shown in cities across Poland in August.
You Tube channel "Polimaty".
Events: On 17 November 2016, the campaign was promoted at the annual Responsible Business Forum. It is the largest event dedicated to social responsibility in Poland and is open to all. Visitors to the stand could test their knowledge about alcohol in a mini quiz, watch educational videos and talk to experts. A half-hour panel discussion with Jacek Wasilewski (cultural studies, media and campaign expert) and Krzysztof Szczerbacza (research specialist) was also held. Handouts and gadgets were also available at the stand.
Training: On 12 and 16 December, four training workshops for catering and store staff were held in Gdynia. The training was a joint initiative of the City Council and ZP-PPS. The aim was to increase knowledge about alcohol, both as a commercial product and as a substance that affects the human body. It was led by Robert Lemański, a qualified prevention specialist.
In 2017 "Alcohol. Always responsibly" messages were communicated through:
Website https://pijodpowiedzialnie.pl, Facebook page (contests for followers, educational content).
PR activities.
Events: Spirits Industry Summit in Ministry of Finance, debate "National Health Programm – towards responsible alcohol culture" with health and social experts.
You Tube channels "Topowa Dycha" and "Eureka".
Training sessions for alcohol beverage sellers and servers in Sopot, Rzeszów, Katowice, Władysławowo. Together over 200 people were trained on alcohol as a specific commercial product by Robert Lemański, qualified prevention specialist. This activity was organised in cooperation with town councils.
Educational workshops for drivers in Lublin led by Traffic Department of Lublin Police.
In 2019 different aspect of the campaign was promoted under the hashtag # zTwarzą (#save your Face). We wanted to show how the behavior of the person who consumed to much can be perceived. For this purpose, we cooperated with actors Michał Mikołajczak and Tomasz Ciachorowski. They have published short films in the form of instaStories from the event, where one of them is going over the line with drinking, and the other reports everything from the perspective of a sober person. This shows young adults, who happen to consume too much alcohol, that they are perceived differently than they think. They can speak too loudly, be bothersome, be intrusive or simply unhappy. It shows how easily you can "loose your face". Action was loudly commented in media and by social media.
In second part of action #ZTwarzą (#save your Face) editor in chief of Vogule Poland (on his InstaStories and YouTube) gave tips on how to walk out of the party #zTwarzą (#save your Face) and not to be ashamed of our behavior from previous night out.
Results
In 2016: More then 10,000 fans on Facebook; 72,000 unique users and 115,000 page views on the website; 247 online and press pieces reached around 1,630,000 people; Over 34,000 views on the youtube channel (up from with the Alcohol not water" and "Sport, diet and … percentage" having gained the most views (6,300 in December 2016); Over 523,000 views of the "5 myths about alcohol" film inspired by the campaign, published on YouTube channel Polimaty; Workshops for have taken place in Gdynia (December 2016); August billboards: around 28 billboards reached 840,000 people in Warsaw and 420,000 outside the capital city. Responsible Business Forum: The event was attended by around 2,000 visitors. Almost 500 took the quiz. In total, in 2016 the campaign reached around 6 million people.
Until November 2017: 25 000 fans on Facebook (rise of almost 15,000 in 11 months); 1.8 million unique users and 2.67 million page views on the website; 193 online,press, radio and tv pieces reached around 2,868 million people; Science and Alcohol short film was published in March 2017 and has been watched almost 45,000 times on YouTube and Facebook; Almost 270,000 views of films on myths about alcohol inspired by the campaign on Topowa Dycha and Eureka YouTube channels; Polimaty "5 Myths about alcohol" - extra 180,000 views in 2017; Workshops have taken place in Sopot (February, May2017), Katowice (May 2017), Rzeszow (June 2017) and in Wladyslawowo (August 2017).
In 2018:
26,985 fans on Facebook
0.3 million unique users and more than 0.69 million page views on the website.
80,000 views of films on myths about alcohol inspired by the campaign on Topowa Dycha and Eureka YouTube channels (Total 2017 - 2018: 360,000)
Workshops for sellers took place in: Żyrardów, Skierniewice, Opole Lubelskie, Włocławek, Wałcz, Tuczno, Człopa, Mirosławiec. 314 retail employees trained in 2018.
523,015 views short animation film "Alcohol. Always responsibly" on Facebook
869,000 views of short spots to promote rebranding "Kinley" tonic, each with logo AZO
In 2019:
Action #zTwarzą (#save your face) - 2 700 000 reach
Social Media posts -2 175 491 reach; 5 178 668 views
visits on website pijodpowiedzialnie.pl - 276 200
nearly 1 000 trained sellers and servers of alcoholic beverages during educational workshops
Measurement & evaluation
In May 2017 an evaluation research was carried out with 1,485 respondents (CAWI - Computer Assisted Web Interviews). The evaluation showed that 20% of respondents came across campaign's messages. Among them:
77% evaluated it positively, 78% stated that campaigns like that are necessary.
51% stated that they give more attention to amount of pure alcohol they consume, 22% said that their behaviour towards alcohol was already in line with the campaign and 14% is planning to change their drinking patters towards responsible drinking.
2% do not agree with "Alcohol. Always responsibly" messages.
Website
https://pijodpowiedzialnie.pl
Downloads
Videos
Photo gallery
Documents